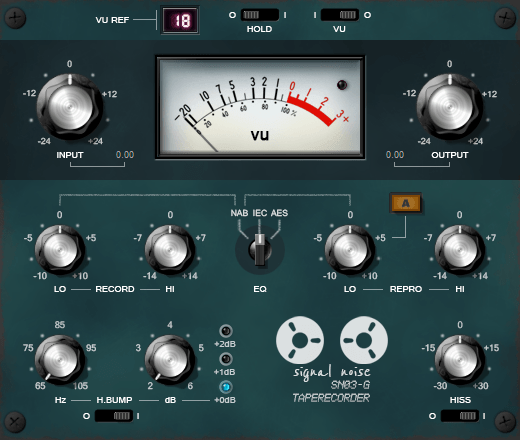 Signal Noise SN03-G Tape Recorder
SN03/SN03-G is a tape sound emulation plug-in not based on tape speed or tape type (nor particular brand of tape machine). It takes the key components of analog tape recorders and gives the user tools to create a properly calibrated "custom tape machine" that operates in the range of 7.5 to 30 IPS, while conforming to NAB, IEC, and AES equalization standards. The plug-in is designed with ASIO/CPU footprint that allows use of many instances for cumulative effect.
Features:
input gain +/- 24dB.
output gain +/- 24dB.
NAB, IEC (15 IPS), AES (30 IPS) EQ modes.
adjustable recording EQ (LF +/- 10dB, HF +/- 14dB).
adjustable reproduction EQ (LF +/- 10dB, HF +/- 14dB).
adjustable "head bump" frequency from 65Hz to 105Hz.
adjustable "head bump" gain from 1dB to 8dB.
"head bump" bypass.
tape hiss gain +/-30dB from ca. -76dBFS (RMS).
tape hiss on/off switch.
complete I/O VU metering.
"Anarchy" button — to defy some norms;).
…and tape saturation, of course.