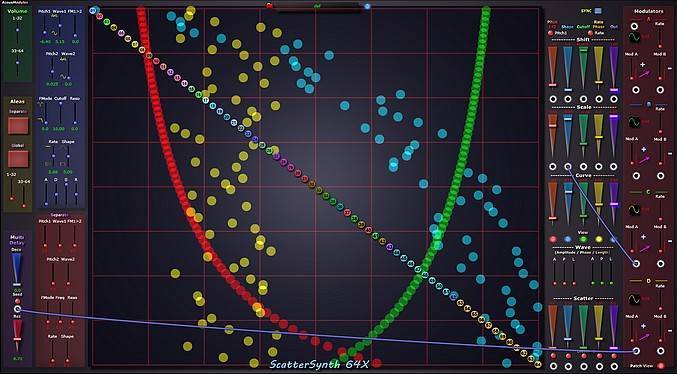 S c a t t e r S y n t h   6 4
Not quite yet another synthesizer with a modulation "matrix"…
Nervertheless, it is based on the same 64 x 64 multilichannel matrix than the Scatterizer, which is used for organizing the outputs of the same 64 FM/substractive modules than the Multi/UniSynth on up to 64 outputs. But this matrix is also used to modulate up to four synthesis parameters according to their spatial position, acting like some "spatial envelopes" that links in some complex ways the sound characteristics and the space.
Since the 64 synthesis voices are always active, the ScatterSynth can be considered as an additive instrument where each "partial" can be spatially independant (like in the FocusSynth) or mixed eventually down to stereo 😉
Nevertheless a Level and Random balance is possible between the first and the second 32 synths banks.
Visit: S c a t t e r S y n t h   6 4