# 5 Surge
Surge is back and open source!Thanks to the generosity of @Kurasu (owner of Vember Audio), Surge has been open sourced and lives on GitHub. This page you're reading right now. Yup. This one right here. It's part of the GitHub OSS Surge-Synthesizer project.
Other ways to get Surge:
# 4 Tyrell N6
TyrellN6: Classic racer with u-he engine
TyrellN6 is a compact, sporty synth. Based on concepts and ideas for a hardware synth: a few modules, novel features, analogue sound and low-cost. TyrellN6 is the software version manifestation of these ideas.
Available as a free download exclusively from the German online magazine Amazona. It is only available via Amazona.de, not from u-he.com or our resellers.
Virtual analogue with classic architecture plus extras
2 oscillators, noise, ring modulator
2 LFOs with 8 waveforms, host-syncable
Audio source mixer with authentic overdrive and filter feedback
Twin filter related to Diva (early model)
Analogue-type ADSR envelopes, loopable or LFO-triggered
Skinnable UI
Over 580 factory presets
# 3 Dexed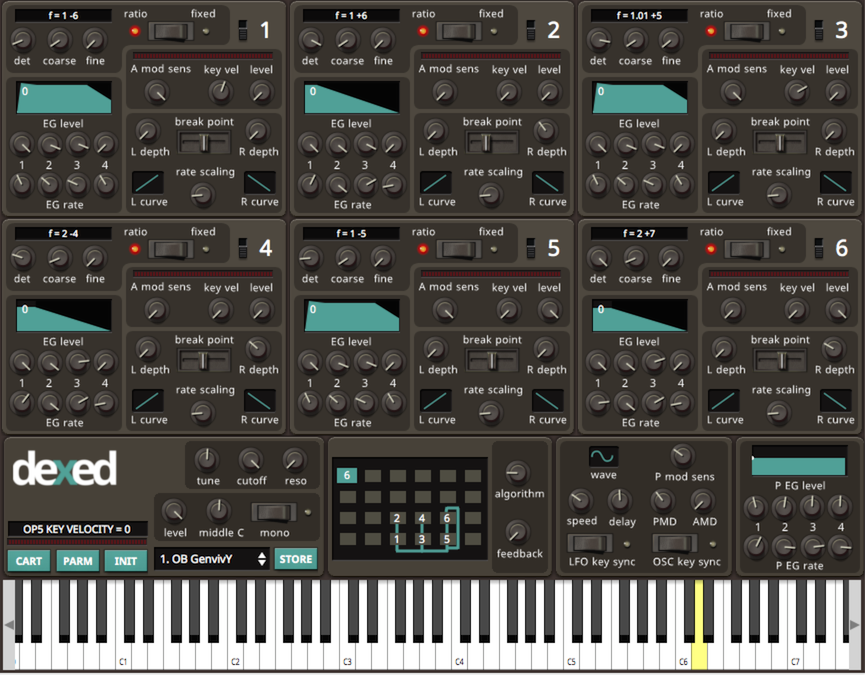 Dexed is free software and is licensed on the GPL v3.
Features
Multi platform (OS X, Windows or Linux) and multi format (VST, AU, LV2)
The sound engine music-synthesizer-for-android is closely modeled on the original DX7 characteristics
144 DAW automatable DX7 parameters available from one single panel
Fully supports DX7 input and output Sysex messages; including controller change. This means that you can use this with a native DX7/TX7 as a patch editor and sysex manager
Each operator have a realtime VU meter to know which one is active
Can load/save any DX7/TX7 sysex programs. It is also possible to save a single program into a different sysex file.
Credits & thanks
DX Synth engine : Raph Levien and the msfa team
Graphical design : AZur Studio
Surge Synthesizer Team for substantial contributions like microtuning and MPE support.
LP Filter : Filatov Vadim (2DaT); taken from the excellent Obxd project
PPPlay : Great OPL3 implementation, with documented code 😀
DX7 program compilation : Jean-Marc Desprez (author of SynprezFM)
DX7 programs : Dave Benson, Frank Carvalho, Tim Conrardy, Jack Deckard, Chris Dodunski, Tim Garrett, Hitaye, Stephan Ibsen, Christian Jezreel, Narfman, Godric Wilkie
Hint: BlackWinny from kvraudio did a great DX7 compilation named Dexed_cart_1.0.zip. Simply unzip the content of this zipfile to your Cartridges directory.
Engine Type
Dexed can be configured to use some of the original math limitation of a DX synthesizer. This does not only apply to the DAC, it also involves the bit resolution of the sine waves and the way that the amplitude is applied to each operator. Since all of this is experimental, multiple engines will be available to be able to compare them easily.
Dexed comes with 3 engine types :
Modern : this is the original 24-bit music-synthesizer-for-android implementation.
Mark I : Based on the OPL Series but at a higher resolution (LUT are 10-bits). The target of this engine is to be closest to the real DX7.
OPL Series : this is an experimental implementation of the reversed engineered OPL family chips. 8-bit. Keep in mind that the envelopes stills needs tuning.
# 2 Ample Bass P Lite
Ample Bass P Lite II aim to bring the Fender Precision Bass sound to your studio.
Check out Ample Sound's paid software HERE.
Features
Sampling:
443 Samples, Size: 450 mb, 16bit 44.1khz
DFD(Direct from disk)
Rich Fingering Noise – more vivid and realistic
Each Cycle & Rhombic Sampling structure – Separate sample cycle for each note and vel layer to improve sample utilization
Sustain, Hammer On & Pull Off, Accent.
Technology:
Auto Buzz system
Capo Logic – Intelligent play according to bass rules.
CPC(Customized Parameters Control), any button knob etc can be controlled by MIDI CC or Automation
Poly Legato
Slide Smoother
Combined Keyswitches – combine 2 articulations via pressing 2 keyswitches at the same time
Open String First
Manual vibrato wheel designed specifically for string instruments
Capo – Transpose without need to modify midi.
Tab Player:
The Tab Player can load and play several prevalent guitarbass tablature file formats. Users can load, display and playback any specific track inside a tablature file. When used in DAWs, the Tab Player also allows users to export the tablature as an audio file.
The Tab Player supports all the fingering, looping, chords, articulations and other markers in the loaded tablature. Supported articulations include: Strum, Natural Harmonic, Artificial Harmonic, Hammer On/Pull Off, Trill, Bend, Tremolo Bar, Legato Slide, Slide In, Slide Out, Vibrato, Tremolo Picking, Palm Mute, Slapping, Popping, Tapping, Let Ring, Staccato, Dead Note, Grace Note, Ghost Note, Accentuated Note, Fade In, etc.
As a built-in function, the Tab Player works seamlessly with the Ample Sound instrument engine, which has extremely customized guitar playing logic so as to model a real world guitar being played. The Tab Player can even judge on its own to automatically add some refining articulations when it thinks it is appropriate, such as slapping on strings or body, or other realistic and indispensable noises.
System Requirements
Windows: Windows 7/8/10, 64-bit only (32-bit not supported).
Mac: From 10.9 to 10.14.
VST2, VST3, AU, AAX and Standalone host.
8GB Hard Disk, Intel i5 or higher.
# 1 Cloudrum
Cloudrum is a unique and relaxing Steel tongue drum with a range of 3 octaves.
It produces wonderful tones, add color and a unique moderation to your music no matter the genre.
Size: 760 MB, 44.1khz.
DFD(Direct from disk).
Two mic positions with stereo and mono modes.
Open, Mute, Opened Release, Muted Release 4 articulations.
CPC (Customized Parameters Control) – any controller can be controlled by MIDI CC or Automation.
Double – different samples at L & R channel.
Each Cycle – Separate sample cycle for each note and velocity layer to improve humanization and sample utilization efficiency.
Cycle * 3 Simulation – When toggled on, sample.